Stand Up Paddle: Introductions, trips, rentals
"Come and walk on the water"

Discover preserved natural sites in the heart of the Cote d'Opale area between Boulogne sur mer and Calais.
All-inclusive packages « no hidden costs »
Introduction €35
"Discover SUP": Rates
1 hour 30 discovery course, paddle, balance tips, first manoeuvres, where and how practising safely.
Trips €45
"go with the flow": Rates
A trip through nature exploring the wild and preserved coastline.Several options of trips according to the public and the desired length of trips 1h30, 2h30, 3h. All trips are downwind, alongside the wild and preserved coastline. While paddling, standing allows you to watch the wildlife.

Many tailor-made exercises for groups of maximum 8 people. Exercises on the beach, in and on the water:
Active relaxation
Serenity/well-being
Balance
Easy muscle strengthening
Stamina
Trips are not introduction course, prior SUP training is required.
Equipment: Naish Mana Soft Top 10', Lokahi AKA Air 10'2, XL SUP RedPaddle.
Perfect for hen party or stag night
Do not hesitate to book your trip online or contact us!
Rentals from 10€
"Tailor-make your practice" : Rates
If you are already trained, enjoy the bay of Wissant with SUP at your own pace from 1 hour to 1 full day.

Booking couldn't be easier :

Stand Up Paddle : Giant SUP!
"Have a fun experience in group" trip / rental : Rates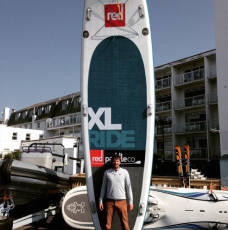 New Giant SUP! The board fits until 5 team paddlers!
Come and have fun in group for a unique experience of shared riding.

Group rates or rentals are possible.